BOSTON – ImpactAssets, a leading impact investment firm and trailblazer dedicated to changing the trajectory of our planet's future and improving the lives of all people, has included BII on its 2023 ImpactAssets 50 (IA 50) list of Emerging Fund Managers, which spotlights "newer fund managers to watch that demonstrate potential to create meaningful impact."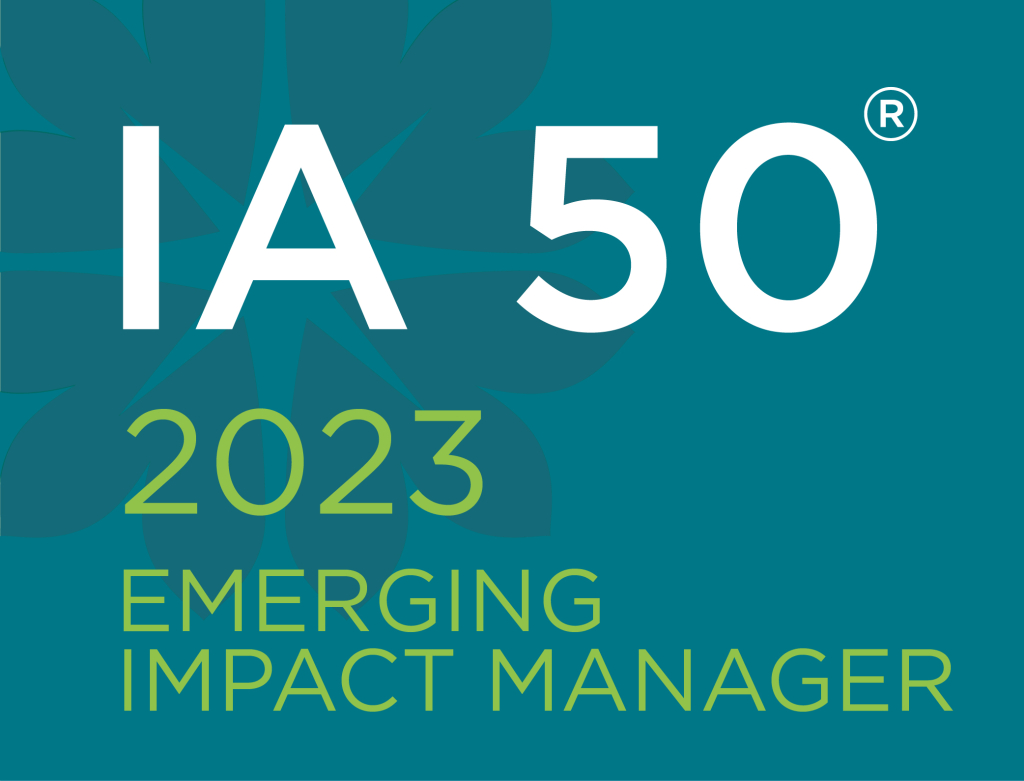 The IA 50 is the first publicly available database that provides a gateway into the world of impact investing for donors and/or investors and their financial advisors, offering an easy way to identify experienced impact investment firms and explore the landscape of potential investment opportunities. It is intended to illustrate the breadth of impact investment fund managers operating today, featuring firms in a wide range of impact investing activities across geographies, sectors and asset classes. 
"What makes the IA 50 so special is its independent Review Committee, comprised of a diverse mix of industry veterans, expert practitioners and impact champions," said Margret Trilli, CEO and Chief Investment Officer at ImpactAssets. "Throughout the IA 50's 12-year tenure, we have honed a rigorous application, analysis and scoring process to support the Review Committee in selecting interesting fund managers for the IA 50 directory. In doing so, the IA 50 has become a staple resource for investors to source impact investment ideas to consider for their own due diligence."
The IA 50 breaks out managers in three categories, including the core IA 50 list, the IA 50 Emerging Impact Managers list and the IA 50 Emeritus Impact Managers list. Across all three categories, a record 163 impact fund managers were included totaling $122.48 billion in assets, invested across a range of asset classes and impact themes.
"We are thrilled to be recognized as an IA 50 2023 Emerging Impact Manager, which provides national-level visibility for our work at a pivotal time," said Betty Francisco, CEO of BII. "Our Fund II, for which we are raising $20 million, is already making investments with transformative potential: from Massachusetts' first Mixed Income Neighborhood Trust (MINT), to a Latino-owned firm bringing home energy efficiency to underserved communities, to a pioneer in accessibility for people who are Deaf or Hard of Hearing. Inclusion on the IA 50 is an important validation of our integrated capital approach and of BII Fund II's strategic focus on entrepreneurs of color and community-owned or -controlled real estate projects."
See BII's profile on the IA 50 list »
See ImpactAssets' press release on the 2023 IA 50 »

About ImpactAssets and the IA 50 
ImpactAssets, an independent nonprofit, offers deep strategic expertise to help its clients define and execute on their impact goals. Founded in 2010, it increases flows of money to impact investing in partnership with its clients through its impact investment platform and field-building initiatives, including the IA 50 database. It has more than $2 billion in assets in 1,700 donor-advised fund accounts, working with purpose-driven individuals and their wealth managers, family offices, foundations and corporations. Learn more »
The IA 50 is a publicly available database intended to illustrate the breadth of impact investment fund managers operating today, though it is not a comprehensive list. Firms have been selected to demonstrate a wide range of impact investing activities across geographies, sectors and asset classes. The IA 50 is not an index or investable platform and does not constitute an offering or solicitation to buy or sell securities or a private placement, or recommend specific products, nor is this an endorsement of any of the listed fund managers. It is not a replacement for due diligence.